The DazzLED LED Ribbon extensive range comes in over 100 varieties; Side Emitting (Ideal for stair nose use), Standard Forward Facing and High Output Forward Facing, RGB, RGB+W, RGB+A, Colour Temperature Adjustable Ribbon, Superior Ribbon with very high CRI value, Quad Chip (4 Colours in a single LED Chip), Bendable for curves, foldable for corners, Super High Output (3000+ Lumens Per metre), High Efficency with 150+ Lumens per watt,  Also available is a Budget Contractor range.
All the ranges of LED ribbon come with a IP20/IP65 rating as standard,  and up to IP67/68 can be made to order. 3M backing tape and white reflective PCB as standard. The Dazzled System works on a 12v or 24v DC supply, utilising LED drivers from the smallest 2 amp up to a most impressive 30 amp. This can allow for 90+ plus meters to be run from a single driver (Side Emitting & Standard Ribbon).
We have a ribbon available for all uses, budgets and applications. NOT ALL LED IS THE SAME !!!!!
Dimming options are available to interface with most systems / protocols – 1-10v, 240v Mains Dimming, DMX, DALI, etc. Stand alone modules for control are also available such as WiFi, Bluetooth and Wireless.
NEW LED DISPLAY FOLDER NOW AVAILABLE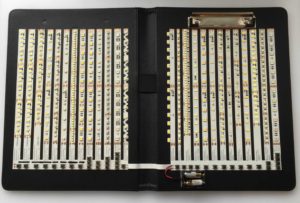 This portable A4 display folder allows you to demonstrate 24 different types of LED Ribbon, showing customers that myth of "All LED is the same", could not be further from the truth. The PAD comes with batteries and is totally portable. Only a small cost is involved in aquiring one, which We will then discount off any future order or specification. Call now for more information.
LED Ribbon Drivers – Controllers – Interfaces